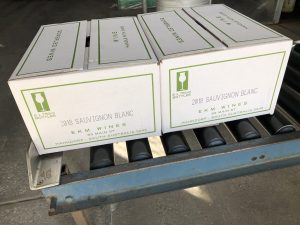 The excitement of vintage seemed like only yesterday. But this week, the first of our 2018 wines was bottled! Here are the first boxes of our Somerled 2018 Sauvignon Blanc hot off the bottling line!
The wine finished cold stability early last week and was filtered.  Rob did a final tasting at Lodestone during last week and decided it didn't need any further additions or movement.  At that point, the tank was relocated into a temperature-controlled room to help bring it up to a good bottling temperature (around 15C).  Monday it was loaded onto the truck and off it went to Boutique Bottlers at Stockwell in the Barossa.  Rob and his brother-in-law Wal (you can just call him Uncle Wal!) were there to see it go into bottle yesterday.
In Rob's words, "It's a lovely pale, bright wine with a really lifted floral/perfumed nose and a delicate dry soft clean crisp palate.  Perfect aperitif!!" I think that means he's happy!
Want to know a bit more about this popular, but sometimes unappreciated variety?
Sauvignon Blanc originated in the Loire Valley and Bordeaux regions in France. The name literally translates to "Wild White". Sauvignon Blanc is also famous for parenting the noble grape, Cabernet Sauvignon, also from Bordeaux.
Sauvignon Blanc is a very flexible variety – it can be grown in a number of different climates, resulting in a range of styles. In Bordeaux's maritime climate, Sauvignon Blanc produces wines with ripe full fruit flavour. While in the continental climate of the Loire Valley in western France, make wines of purity, minerality and length. In the Sauternes region of Bordeaux in south-west France, when blended with Semillon and aided by the Botrytis fungus, some of the world's greatest sweet "dessert" style wines are produced.
The Marlborough region in New Zealand is probably one of the most well-known producers of Sauvignon Blanc these days, but we Aussies make some pretty good ones too (and not just of the Somerled variety!).
Aussie Sauvvie
As I've mentioned, Sauvignon Blanc differs greatly depending on the climate and soil in which the grapes are grown. Australian Sauvignon Blanc runs the gamut of flavour from herbal, grassy, sour citrus and gooseberry, to passionfruit and tropical fruit characters. Structurally these wines can be light in body and crisp or medium-bodied and rich. Some, like our Somerled Fume Blanc, are oaked to add a further dimension of complexity. Sauvignon Blanc is Australia's top selling white wine in dollar terms.
Which region in Australia produces the best Sauvignon Blanc?
Well, of course, I'm going to say the Adelaide Hills! But, the truth is, they are all so different it would be unfair to compare them. Let's take a closer look at each regions and the styles of Sauvignon Blanc they produce…
South Australia
While we share the same "cool climate" categorisation, the Adelaide Hills is slightly warmer than Marlborough. It is for this reason that we produce crisp, fresh Sauvignon Blanc with tropical flavours rather than the trademark grassy notes of our NZ counterparts. Coonawarra also produces some lovely cool climate Sauvignon Blancs
South Australia also produce some richer, riper examples in McLaren Vale and Langhorne Creek. These aren't as popular here because we're not used to this rich style in Australia.
Western Australia
Margaret River Sauvignon Blanc has ripe, zippy and grassy flavours that have attractive, tropical musky-asparagus aromas. Pemberton is a small Western Australian region that produces distinct Sauvignon Blanc styles with tropical fruit aromas and flavours.
Victoria
Victoria's cool regions produce some fresh and vibrant Sauvignon Blancs, with those from the Yarra being typically elegant and restrained. King Valley and Goulburn Valley Sauvignon Blanc is often grassy and also shows classic cool-climate freshness and vibrancy.
Tasmania
The cool Tasmanian climate is ideal for Sauvignon Blanc, that typically has high levels of crisp acidity, which gives the wine great freshness.
Orange, NSW
A relative newcomer – Orange's cool climate and high altitude have proved to be ideal conditions for creating Sauvignon Blanc with fresh, herbaceous characters.
How does Rob make his Sauvignon Blanc so "mouth-watering"?
The secret to Rob's amazing Sauvignon Blanc is that he likes to pick the fruit nice and early. That way, the soft acid or what he likes to call "mouth-watering" acid, is still present. The longer the fruit is left on the vine, the more it ripens – replacing the acid with sugar. If Rob picked it later, then he would need to add acid in the winery to create the same effect.
Rob also like to choose fruit from different parts of the vineyard to get a nice range of flavours. From ripe mango in the full sun areas to zingy passionfruit in the cooler, shadier morning sun rows.
The overall effect is a soft, mouth-watering, elegant Sauvignon Blanc!
If you're a Jockey Club member, watch out for a bottle of this new release in an upcoming pack… it won't be too far away. Once it has been released to the club you will be able to taste it at the cellar bar – why not pop in for a side by side comparison with the 2017 version?! (and a platter and another glass or two…!)
Thank you! … you know who you are.
A huge thank you to everyone who contributed to last week's post with your great questions and feedback! Make sure you keep an eye on the blog for a post dedicated to your topic of interest.