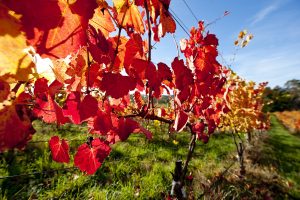 Remember that place we got all the grapes from?
While all the action has been in the winery, it's easy to forget that the vineyard is still there doing its thing. Once the grapes are harvested, work doesn't automatically stop for the viticulturalist (fancy name for someone who grows vines).
A lot of work goes into ensuring the vines are ready to produce Somerled quality fruit for Vintage 2019.  Kim Anderson has kindly taken us through what he's been up to on his property in Charleston. Let's take a closer look…
Rainfall
There has been a good amount of rain over the last few weeks.
Adequate water keeps the vine functioning so that it can store the carbohydrates in the trunk and roots which it will need come Spring.
Fertiliser
One hundred and twenty tonnes of composted organic matter with humates, lime and gypsum went under the vines last week – about 3 kg for each one and a little extra on the less vigorous spots. Kim is trying to improve the soil. That way, the vine roots are able to take up nutrients and water better.
Lime (calcium carbonate) helps to balance the pH (acidity) of the soil so that the nutrients can become more available to the roots.

Gypsum (calcium magnesium sulphate) improves soil structure by replacing sodium in the soil solution and reduces the breakdown of soil particles.

Humates are organic acids which stimulate the healthy microbes in the soil. These microbes protect the roots and assist with nutrient uptake.
Soil quality
Kim has always left the grass to grow under the vines until budburst (when the buds first form on the vine late in the year) to improve organic matter in the soil. While levels have improved a lot, he still had some unevenness in vigour in some sections.
Soil conditions can change considerably over quite short distances in the vineyard. Variations between high and low elevations are the most common. Under these circumstances, it is common to give nature a hand with mulching or composting.
Pruning
Kim will prune all of the Pinot Noir to canes over the next few months. Last winter he changed half of the block from spur-pruned arms to canes.
The difference between cane and spur pruning is best explained by this diagram.

A lot of work goes into changing the pruning system from spur to cane. So why would you bother?

With cane pruning, the viticulturalist is able to control the number shoots on the vine. This is important in getting the balance between yield and competition for nutrients and water at critical growth stages spot on. This is a very expensive and time-consuming process though.

Spur pruning on the other hand is cheaper and simpler. It can also be done mechanically. The downside, though, is that more shoot thinning may be needed later on if the vines grow too vigorously (and vigour isn't always a good thing when it comes to wine quality).
Despite the added expense and effort, the vines will grow with better balance and there won't be so many unfruitful shoots to remove after budburst.
Disease management
New vines will be trained up in Kim's Chardonnay block this season – just four rows for now. He is pulling out a few rows each year and replanting the old vines with new ones. As the Chardonnay block is over 20 years old, there are a few vines with Eutypa. Some can be cut back hard – past the point of disease, but it is better to replant afresh. That way he is certain that there are no diseased vines left undetected.
Eutypa is a trunk disease that causes the eventual decline and death of the vine.
Special thanks to Kim Anderson for his contribution to this post.
Reserve Chardonnay launch
Speaking of Chardonnay, Rob will be releasing his first Reserve Chardonnay this weekend! Hopefully, you have your tickets as it has SOLD OUT!
If not, stay tuned for more details on our first ever virtual tasting – order your Reserve Chardonnay when we release it by email next week and Rob will personally introduce you to this special wine.
Keep your eye out for details coming your way soon!