So, last week I may or may not have alluded to some slightly worrying weather conditions… well, let's just pretend that never happened because all is well in the vineyard! We did have a day or two of humid weather, which had the potential to produce ideal conditions for the development of powdery mildew, but both the Summertown and Charleston vineyards have come through that unscathed. Fortunately, there were some useful breezes which kept the canopies fairly dry (or at least not wet for prolonged periods at warm temperatures, which powdery loves). In fact, with the trend of cold nights resuming, the weather has been great for ripening.
Which means… drum roll please… it's Somerled's turn. Vintage 2018 is here!
It looks like we'll be picking, as luck would have it, our pinot noir for Sparkling AND the sauvignon blanc on the SAME DAY… next Tuesday 6th March.
But how does Rob know when the grapes are right to pick?
There are a number of things that need to fall into place… Rob has to be happy with the flavour profile of the grapes, the weather conditions need to be right, and pickers and equipment in the vineyard and the winery need to be available, just to name a few.
A fair chunk of the decision making process, though, has to do with something called Baumé (pronounced bo-may).
Prior to harvest, representative samples of the berries are collected regularly and crushed to release the juice. The juice is then tested in the lab to determine the sugar content in that sample and is expressed in units of degrees Baumé (oBé) or degrees Brix (pronounced bricks).

Baumé is more commonly used because it also gives a convenient prediction of the potential alcohol content of the wine produced from those grapes. The general rule is that 1oBé is equivalent to 1% alcohol. For example, a grape juice with 13 oBé will, if fermented completely, produce a wine of about 13% alcohol by volume.

There a two applications of the term Baumé in wine-making. We'll revisit this term, for the second application, in a future post.
So, what stage are our grapes at now?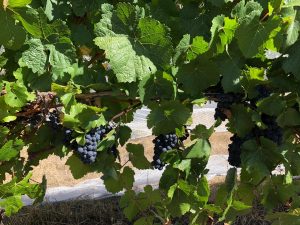 The pinot noir grapes (see picture) for our sparkling were last tested on Sunday, at which time the Baumé was 9.2. The previous test was on 19th Feb, and back then it was at 7.8. That's an increase of 1.4 oBé in a week! Rob aims for a Baume of around 10 in the juice for the sparkling, so it's not very far away at all. They're being tested again tonight to confirm the decision to pick on Tuesday. Given Rob prefers the Baumé not to get too high, he can't see that we will delay picking any longer than that.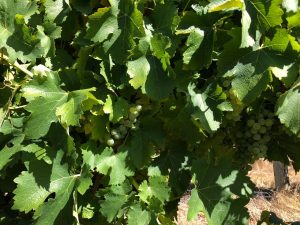 The sauvignon blanc grapes are looking really lovely (see picture). Back on 22nd Feb, the Baumé was just under 10 and we're currently waiting on lab results from a sample taken today. For this wine, Rob aims for a Baumé of 11.0 – 11.5, so Tuesday is looking like the day it will all happen!
Stay tuned for the next post when we should have some exciting news from our first crush of the season!