Rob has been a VERY busy boy this week with Vintage 2018 AND bottling of a number of our wines starting all at the same time. Let's just say, he has definitely earned a glass (or two) or something this week!
Let's start with what has been happening on the bottling line…
Last week we transferred 2015 Shiraz, 2017 Pinot Noir (dry red), 2017 Fume Blanc and 2017 Chardonnay to Boutique Bottlers in Stockwell in the Barossa.  Boutique Bottlers is a great, small (as the name suggests) bottling operation run by Kym Burgemeister and his family.  We use them because they do everything really well and given that bottling is about the last point at which something can go dreadfully wrong with a wine, it's reassuring to know that Kym and the team are looking after it all.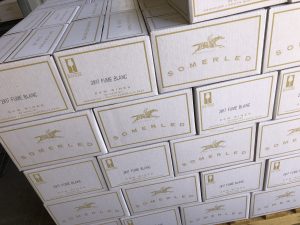 However, that doesn't mean that Rob puts his feet up and lets them take care of the bottling process. Nothing could be further from the truth! His day started at 8am yesterday when he went to check that the wine arrived safely and to ensure that there hasn't been a mix up with any of the wines. He also checks that the carbon dioxide and dissolved oxygen levels are within specification. Despite all the care and attention, it's a rather nerve-wracking time for Rob… it's for this reason that he always leaves the wine for a week or two before tasting it after bottling.  And there's no doubt that the wine does change due to all the handling prior to and during bottling… but then it settles down and usually looks better after a while than it did before it was bottled.
Have a look at this little video of our Fume Blanc on the bottling line…
Fume Blanc Bottling Line Video
Oxygen can have a significant impact on wine style. Low oxygen levels typically lead to wines displaying elevated fresh fruit attributes, an absence of developed characters, and a tendency to form undesirable reduced characters. On the other hand, too much oxygen can lead to subdued fresh fruit characters, the development of stewed and cooked fruit along with other developed attributes, the absence of reduced characters and the early onset of undesirable oxidised attributes.

Oxygen's impact is so dramatic that the same wine exposed to slightly different oxygen levels at and after bottling can result in completely distinct wines.

Controlling oxygen levels at bottling is also important because oxygen can cause the onset of wine faults and also determines wine shelf life.

(Australian Wine Research Institute, AWRI)
So, all of the wines were bottled yesterday except for the Shiraz. Why? Because we were sent the wrong bottles! See why it's important for Rob to triple check everything? The correct bottles should be arriving tomorrow, so the Shiraz will go "down the line" (a bit of technical talk for you there, you may borrow it if you wish!) then.  But, there is a silver lining to every cloud…  as Rob didn't need to stay on to oversee the bottling of the Shiraz, this gave him just enough time to zip home to Hahndorf to get ready to join his lovely wife, Heather at the one and only Adelaide Festival show they had booked for this year (of course it HAD to coincide with the busiest week in the winery!). Phew!
"Awwww"… I hear you all say, "what a lovely end to a hectic day". Well, as it turns out, it wasn't the end of the day for Rob. After the show, he got a call from the winery to let him know that the pinot noir for Sparkling had been pressed. So, off to the winery, he goes…
The beginning of vintage 2018…
If you've tried Rob's wines, then you don't need me to tell you that he's pretty picky about the styles of wine he makes. This means that he needs to be very picky about the fruit he uses. While Rob has great relationships with growers of all the fruits which goes into the productions of Somerled wines, he has never locked himself into any contracts with these growers. And our first story of vintage 2018 is a perfect example of why he doesn't.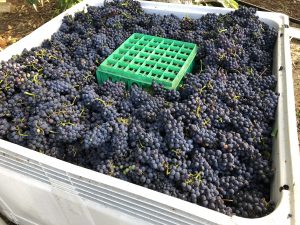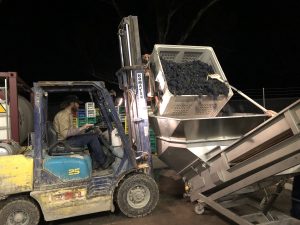 By the time the pinot was picked and pressed, the Baumé (take a look at last week's post for a review of what this is and why it's important) was slightly higher than Rob would like it to be. These things happen. So, instead of compromising and producing a style of Sparkling wine that just isn't Somerled, Rob has agreed to take only half of the 4 tonnes of fruit that was picked and to use this instead, for our Rosé. And what a beautiful Rosé it's going to be!
Disappointingly, we're going to miss out on a 2018 vintage of the sparkling, BUT, never fear… we have healthy stocks of other vintages which will see us through.
It's now 2am and Rob can finally put, what we hope will be the busiest day of vintage 2018, behind him. But, in this unpredictable business, who knows? You'll just have to keep reading to find out…!