This week we head into the winery to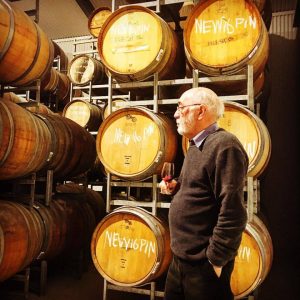 have a look at what's happening behind the scenes with some of Rob's creations which he is lovingly nurturing…
2017 Fumé and Chardonnay:  These wines are both looking sensational and will be heading to the bottling line very soon. And a point of interest for the Chardy die-hards among us… a couple of the barrels are already particularly caramelly… yum!
2017 Pinot Noir: Still in barrel and is elegant, with a beautiful structure. It looks light, but the flavours are delicious! It is due for a rack & return and will also be bottled before vintage begins.
Rack and Return is a term which describes the process of pumping the wine out of barrel and then returning it once the barrels have been cleaned and any remaining yeast lees (dead or residual yeast cells) have been removed. This helps to get some air into the wine, keeping it nice and fresh. It also helps to soften the tannins and allows blending of the different barrels for consistency in the bottle.
2015 Shiraz: This particular vintage has now been in barrel for well over two and a half years. It was recently transferred to tank and is now ready for bottling. It looks lovely – beautiful typically Somerled chocolately flavours! It will then spend between one and two years in bottle where it should develop those estery Penfolds-esque characters. Rob likes to move away from his Shiraz being a simple fruit & oak wine to it having much more complexity and interest, which include these interesting aromas. This is also one of the reasons he leaves it barrel for so long, so it has developed some of these already.
So what does "estery" mean exactly? It's a difficult term to describe and even Rob struggles to define it. Basically it is a compound called ethyl acetate which is produced from a reaction between ethanol and acetic acid. Wines with too much acetic acid are described as having Volatile Acidity (or VA) which, at high levels, is a fault in the wine. However, Penfolds are known for having a small amount of VA in their reds and for Rob this characteristic is very desirable AT LOW LEVELS… just enough so it combines with the other characters of the wine to sort of lift it and add complexity.

So, I guess you could liken it to walking a tight rope… Rob has the skill and finesse to tread this fine line, to ensure the delicate balance is maintained.
2016 Shiraz: Was recently racked and returned but kept in two separate batches due to some slight differences in flavours. If they remain significantly different, and one stands out from the other, this will inform Rob's decision to blend further down the track. Or not!
2017 Shiraz: Even at this very early stage, the 2017 vintage is looking great with nice intense fruit flavours. This one looks to be yet another fantastic vintage out of McLaren Vale. Watch this space!
Is your favourite Somerled wine Rob's deliciously rich and smooth Shiraz? Which is your favourite vintage? Let us know in the comments below.
And don't forget to tune in next week, when we'll have a chat about our "Trophy-winning" Sparkling Pinot Noir!
Missed last week's post? Catch up here.