If you're lucky enough to have met Rob, you'll know that he is understated and unlikely to exaggerate his impressions. He'll happily enough acknowledge that his wines are (more than) "drinkable", but you won't find him banging on about it!
That's why his latest update from the winery has got me very excited! Read between the lines with me and you'll discover we're going to have an outstanding line-up of wines from vintage 2018.
Let's have a look at Rob's report from the winery today in his own words, with a translation here and there from me (which may or may not reflect the stated views of the winemaker!)…
Report on visit to Lodestone Winery – 24 May, 2018
Looked at all the wines and happy with all of them.
(See what I mean by understated?! Happy = ecstatic)
Sauvignon Blanc
Still cloudy in the tank, but the colour is great (awesome) – pale, with some of those nice green tints that reflect the early picking and really nice (top quality) fruit.
The nose is very delicate – slightly herbaceous rather the floral.  The palate is crisp. Too crisp for drinking at this stage, but we'll be chilling the wine to ensure cold stability next week, and that will ease back the acid level.
Cold stabilisation

In some bottles of wine you may see a small deposit of crystals, particularly if the bottle has been stored in the refrigerator. These deposits are tartrate crystals – a natural part of the wine; they precipitate out under cold conditions. They are not harmful, however most consumers prefer their wine to be perfectly clear (particularly white wine).

To ensure this winemakers will, after fermentation, chill the wine and hold it at about minus 3 degrees Celsius to precipitate all or most of the unstable tartrate crystals before the wine is bottled.
Flavours are delicate too, but with a nice lingering finish. (The 2018 version of this Somerled favourite is going to be delicious, as usual!)
Fumé Blanc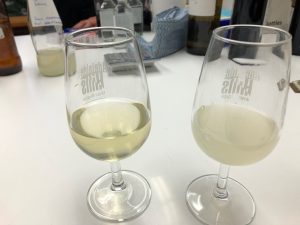 Already darker in colour than the "standard" Sauvignon Blanc. This is due to its time in the barrel, with colour from the oak showing up.  Seeing as it has had only a short time in barrel, it's impressive (high praise indeed!) to see that extra colour and even more so to see the enriching of the aromas and flavours.  The malolactic fermentation has influenced the nose and palate in a very nice way so that the wine is already starting to show complexity and interest (damn, this wine is going to be great! …or something like that).  It's being stirred on a fortnightly basis.  This stirs up the lees from the bottom of the barrel, helping to develop a fuller texture and flavour.  It helps the bacteria to keep going too, as the malolactic fermentation hasn't finished yet.
Chardonnay
This is showing colour development too! (exclamation marks?! He must really be excited!) It's even a bit deeper than the Fumé, and with really nice tints.  The nose is quite full, and the ongoing malolactic fermentation is adding such a nice (delightful) extra lift to the nose – almost a maturity to it.
The palate has quite a dense flavour and it really lingers.  There are some nice oak aromas and flavours, and it's almost savoury rather than fruity.  It's going really well (OMG… Heather is going to love this!).
Pinot Rosé
Pale and very dry as all good rosés should be.  It's not showing a great deal in the way of malolactic fermentation (MLF) influence – aromas and flavours are still "pinot fruit" without strong complexing effect from the MLF.  But that will come.  We'll have an update on the progress of the MLF tomorrow.  It's still very crisp, so further MLF will be ideal to soften it up!!
Pinot Dry Red
This is looking very nice indeed.  It's all the way through MLF and sulphur dioxide has been added, as previously reported.  It's still quite cloudy so it will be pumped out of barrel into a tank and settled for a bit, then racked back into washed out barrels.  The barrels will, apart from one new one, all be well matured, as we don't want too much oak to show through. The nose is showing that lovely young pinot perfume that will get more prominent as it sits in barrel. I think that as the wine becomes clearer and less cloudy, those aromas will float up more easily.  The palate is surprisingly rich for a pinot and has almost a sweetness about it, even though the residual sugar in the wine is negligible.  It could be our best pinot dry red yet, as I think I've already said!! (more exclamation marks! Boy, I'm not sure I've ever seen rob THIS excited!)
HARVEST DAY – SUNDAY JUNE 3
Back by popular demand!
Paella paired with a glass of Tempranillo = match made in heaven!
Serving lunch at our next Harvest day on Sunday, June 3 and this time we're supporting Catherine House – Support for Women Experiencing Homelessness and we'd love you to bring any of the following items:
liquid body-wash
facial cleanser
facial moisturiser
hair colour
sunscreen
deodorant spray.
We'll then deliver our stash to Catherine House who will distribute them to women in need – these simple items will make a big difference.
Lunch $25 – Click here to book
Have a look at the Catherine House wish list here.