Vintage 2018 that is! Even though a few wineries in the region have seen the first fruit picked and into the press this week, we still have at least a couple of weeks to wait. Rob sources the grapes for his wines (except the Shiraz) from some of the highest vineyards in the Hills… it's for this reason that it takes a little longer for vintage to be well and truly underway for Somerled.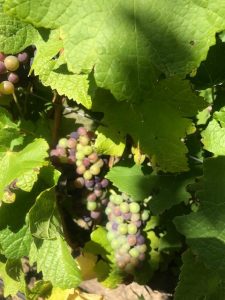 That said, there is still plenty happening…
At Paul Henschke's vineyard in Summertown, where Rob will get the Pinot Noir for our Sparkling and Rosé, we're only just seeing the first signs of veraison in some of the younger vines (see photo). At this stage it won't be picked until the second week of March.
Things are a little more advanced in Charleston at Kim Anderson's vineyard. Veraison is close to 100% in the Sauvignon Blanc (this will be used for the Fumé as well), the Chardonnay is at around 50% and Pinot Noir (for our dry red) is somewhere between the two… in short, lots and lots of fully coloured berries, but low in sugar and high in acid. Still a little way to go, although Kim will do the sugar level test on samples of the fruit on Monday next week.
For a recap on what veraison is, visit our post here.
Even though we've had some hideously hot weather of late, the nights have been nice and cool (down to 5 degrees some nights!)… this is a bonus for grape flavour and wine quality as it minimises the overall stress on the vine.
Another positive for this vineyard is that it's looking really healthy. How do we know? Well, there are a couple of telltale sign of a healthy vineyard…
Pest free – There is no sign of Light Brown Apple Moth or scale insects
Insect pests are luckily quite uncommon in Australian vineyards but the Light Brown Apple Moth (LBAM) caterpillar, a native, can feed on the young berries, leaving scars for bunch rot fungi to enter the fruit.

Scale insects are sap suckers which also produce a honey dew which is the favourite food of sooty moulds, damaging the fruit.
Beneficial insects – There are really high populations of beneficial insects such as the Trichogramma wasps, lacewings, ladybirds etc.
Beneficial insects are the species which prey on the pest species eg LBAM and scale, keeping the pest numbers below the damaging levels.
Disease free – The vineyard is free from powdery mildew.
Grapevine powdery mildew, caused by the fungus Erysiphe necator, is a common fungal disease which can render the vine leaves dysfunctional. It slows photosynthesis and it reduces yield and quality of grapes and the resulting wines.
The canes and leaves of the vine (collectively termed the 'canopy') also give us an indication of overall health. Ideally the shoots have stopped elongating by this stage. However the youngest leaves must remain green and active so that the energy is directed towards moving sugars and all the lovely flavour precursor compounds towards the fruit which form the basis for what we'll be tasting in the finished product. The older leaves have done their work by now and it's ok to see a few of these yellow; after all they did emerge back in September!
We need your help!
We are very close to launching a new initiative for our friends who don't live in Adelaide or who are unable to visit us at the Cellar Bar when we run special events.
How would you like to be involved in tastings run by Rob and special guests from the comfort of your own home, surrounded by your friends and family (or on your own if you 're like me and don't like sharing!) and some delicious wines?
Sounds too good to be true right? Wrong!
Our first "Virtual tasting" will be available to you very soon, but in the meantime, we'd like you to have a think about what topics you'd like to see pop up throughout the year. Would you like to see a comparative look at Shiraz across different regions? What about a vertical Chardonnay tasting?
We'd love to hear your suggestions… so please leave us a comment below.
And for any suggestion which becomes a tasting, we'll dedicate it to you! That's right… It will be forever known as the "John Smith Somerled Shiraz vs Penfolds Grange comparative tasting"! PS. This particular tasting may cost you a little extra…