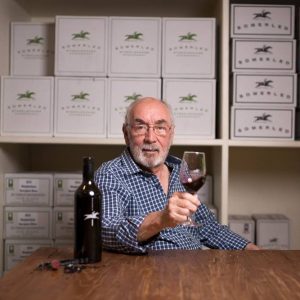 …and how did he come to make such amazing wines?
For those of you who haven't heard, this year marks Rob's 50th vintage! But, he didn't start life as a winemaker. Rob was originally a maths teacher at Norwood High School who had never made wine in his life!
So…
How did this whole wine-making thing come about?
It wasn't until Rob met Heather that his interest in wine developed and he began to imagine life as a winemaker… even though, back in 1968 making wine wasn't the trending sensation it is now!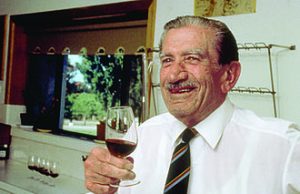 To get a foot into the industry, Rob posted letters to the major producers – Orlando, Hardy's, Penfolds and so on. Who was the only one to answer? Max Schubert, the Father of Grange, of course! He said sure, why don't you come on in for a chat?
Apparently, the first 10 minutes were fairly awkward, but then they started chatting marvellously. Rob cheekily suggested that Penfolds put him through Roseworthy oenology course. Max said, in essence… "Yeah, why not?"
By 1969, Rob was Assistant Winemaker. And by 1971, he was in charge of the red ferments for the '71 Grange – famous for being the best wine in the world for that decade.
Max then personally asked Rob to oversee the Grange winemaking when it all moved up to the Barossa in subsequent years. A natural fit for a quiet, masterful talent. No wonder The Advertiser says Rob's wine is now 'about as close to Grange as you'll get'.
Can Rob explain what it is about Grange then, that gets people so excited (including him?)
It has its pick of some of the best vineyards in the country! That's a great start. All those words Rob uses – dark and rich (due to the fruit), complex (due to time in barrel) and lovely integrated oak. He doesn't always agree with the price tags, but he does agree it's among the best wines he's ever made!
But we think your Somerled wines are pretty good too Rob!
This week in the winery…
Rob has been working on the reds this week.
2016 Shiraz
All the barrels of the 2016 Shiraz were brought down out of the stacks so Rob could taste each of them to make sure there weren't any with a problem (tough job!).  The barrels were then pumped out into a stainless steel tank.
A sample from the tank was brought into the tasting room and trials set up to test the effect of fining agents. It was decided that very little was required. A very small amount of gelatine and egg white helped to soften the wine slightly without stripping out flavour or deadening aromas.
So the fining has now been added and the wine will be racked (leaving the sediment behind in the tank) back to barrels.  The barrels will be topped, tightly sealed and then put back into the stack.
Rob is really happy with the way it is looking. It's typical Somerled Shiraz! It will benefit from another 3-4 months in barrel though before it will be prepared for bottling.  Then it will have a couple of years to settle down in bottle before release (so don't get too excited just yet!).
2017 Shiraz
He also tasted each of the 2017 Shiraz barrels this week.  It's a long time before this wine goes to bottle, so it was racked into the tank and then pretty much straight away put it back to barrel and topped up.  The benefit of doing that is to get a bit of air into the wine and keep its development moving along in the right direction.
2018 Pinot Noir
He also did the same with the 2018 Pinot Noir which is very aromatic and has such a lingering flavour.  Rob says it's going to be as good as the 2016 and 2017 and may have the potential to be even better! Even better than 2017??!! Those lucky Jockey Club members who received a bottle of this in their latest pack would agree that is a hard task!
Do you know what goes well with a Somerled red?
ITALIAN SAUSAGE!!
This Saturday is our inaugural Somerled Italian sausage making day…
Which is now officially SOLD OUT!
Please get in touch if you would like to join future events and we'll add you to the waiting list!